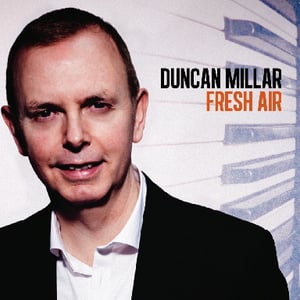 £

9.00
Following previous releases Dream Your Dream and Good To Go, pianist, keyboardist and MOBO jazz-nominee Duncan Millar returns with ten new enticing tracks. Filled out by a full band including sax and trumpet, the keyboard-led melodies take you on a journey through a range of sensuous moods and grooves, ranging from funk to slow-samba to jazz-waltz.
...pianist and composer Duncan Millar plays with an open, bright sound and fleet feel evoking the greats-from Oscar Peterson to Herbie Hancock..... an instrumental Al Jarreau-laid-back, warm, and often irresistible. A magic reminiscent of Steely Dan comes across in the keyboardist's lithe, feather-touch work... --Jazz Times
Once the flute and that electric piano start trading moves, I'm hooked, - oh, this is lovely! --Smooth and Soul
Millar's created a rarity: a smooth jazz album with soul. --Corpus Christi Caller Times
Choose from signed or unsigned CD, (still in cellophane wrap), below.
(If you have any special signing preferences, please contact Warmday Records using contact-form on the right and we will do our best to accommodate).
FOR ANY SHIPPING DESTINATION NOT INCLUDED HERE, PLEASE ENQUIRE USING CONTACT FORM. Postal costs to European destinations (exc. UK) include tracking and must be signed-for.